Older people who fall, often have reduced strength, poor balance and limited functional abilities, all of which can be improved through well-designed exercise interventions. However, exercise participation and adherence in older adults is also often low. Technology-based exercise programs (also known as exergames) have the potential to improve exercise adherence by reducing a number of perceived barriers to exercise (including lack of time, accessibility, boredom and fear of falling). We completed a systematic review to look at the current literature regarding older adults' acceptability and adherence to technology-based exercise interventions.
Twenty-two studies were included in the systematic review with participants' ages ranging between 67 and 86 years. Ten studies compared outcomes between technology-based and traditional exercise programs. Both types of interventions reported high adherence rates, which can be partly attributed to the supervised nature of the interventions and short follow-up periods (median 91.25% and 83.58%, respectively). Nonetheless, adherence rates were higher for technology-based interventions compared to traditional interventions independent of study site, level of supervision, and delivery mode. The majority of the studies used commercially available gaming technologies (e.g. Nintendo Wii).
Findings from this systematic review suggest that technology offers a well-accepted method to provide older adults with engaging exercise opportunities while maintaining high adherence rates for at least the first 12 weeks (study lengths ranged from 3 weeks to 20 weeks). More research is required to investigate the feasibility, acceptability, and effectiveness of technology-based exercise programs undertaken by older people at home over extended trial periods.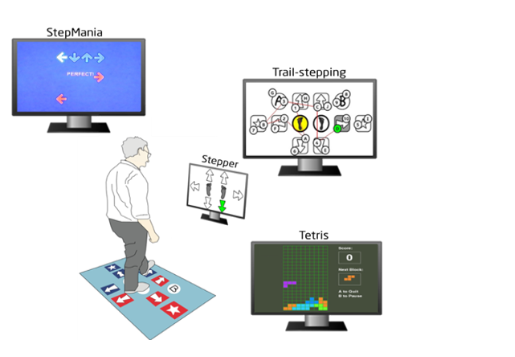 Figure: Example of a technology-based exercise program (exergame) to reduce fall related risk factors in older people.
Publication
Valenzuela T, Okubo Y, Woodbury A, Lord SR, Delbaere K (2016). Adherence to technology-based exercise programs in older adults: a systematic review. Journal of Geriatric Physical Therapy. June 29 [Epub ahead of print] https://www.ncbi.nlm.nih.gov/pubmed/27362526 https://www.ncbi.nlm.nih.gov/pubmed/27362526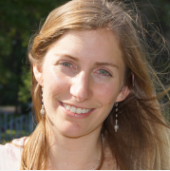 Trinidad Valenzuela
Falls, Balance and Injury Research Centre at Neuroscience Research Australia
Trinidad Valenzuela has a background in Exercise Physiology with a focus on exercise for the prevention and treatment of chronic conditions. She has recently completed her doctoral research at the University of New South Wales and the Falls, Balance and Injury Research Centre at Neuroscience Research Australia with Prof. Kim Delbaere, Prof. Stephen Lord and Dr Husna Razee. Her research focuses on understanding and improving exercise adherence in older people, and developing novel exercise interventions using technology to prevent falls.
Copyright
© 2018 by the author. Except as otherwise noted, the ISPGR blog, including its text and figures, is licensed under a Creative Commons Attribution-ShareAlike 4.0 International License. To view a copy of this license, visit https://creativecommons.org/licenses/by-sa/4.0/legalcode.
ISPGR blog (ISSN 2561-4703)

Are you interested in writing a blog post for the ISPGR website?  If so, please email the ISGPR Secretariat with the following information:
First and Last Name
Institution/Affiliation
Paper you will be referencing