Concussion results in a wide variety of impairments such as cognitive deficits in memory, reaction time and processing speed. Moreover, post-concussion dizziness and balance impairments are found to be common and predictive of worse recovery times.  Therefore, an increasing number of patients with concussion are referred for vestibular physical therapy.
Although it is likely that cognitive and vestibular impairments after concussion are related, they have only been examined in isolation. This study examined the relationship between cognitive performance and various gait and balance measures in patients referred for vestibular physical therapy after concussion.
Our study investigated the relationship between gait and balance performance with cognitive performance in a group of 60 adolescents referred for vestibular therapy after concussion. We tested our participants on a range of functional gait and balance measures, such as the Functional Gait Assessment, Timed "UP & GO", and Five Times Sit to Stand. Our results suggest that, after concussion, both memory deficits and impaired gait and balance can occur in individuals. Our results further show that they are associated with each other. First, we demonstrated that functional balance and gait measures were associated with worse verbal and visual memory on the Immediate Post-Concussion Assessment and Cognitive Testing (ImPACT). For example, in the figure below, we observed that better performance in visual memory (i.e. higher scores) and verbal memory was related to better performance in the Five Times Sit to Stand (i.e. less time). We also found that higher scores on the Post-Concussion Symptom Scale were associated with lower scores on the Activities-specific Balance Confidence scale and higher scores on the Dizziness Handicap Inventory.
Spatial navigation is frequently affected after concussion and is important for both gait and balance tasks as well as memory tasks. Clinicians working with patients after concussion should check whether any observed cognitive impairments might be partially attributed to declines in spatial navigation rather than an isolated memory decline. Vestibular therapists should consider giving dual-task exercises, combining balance and cognition, during the rehabilitation process to reduce the impact of cognitive performance on gait and balance function. It will be interesting to see in future studies whether the associations between cognitive and balance affect recovery trajectories after concussion.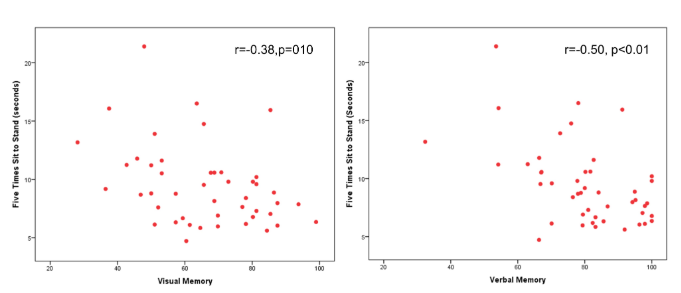 Figure: Association between Five Times Sit to Stand Performance and Visual and Verbal Memory performance in 60 adolescents with a concussion who were referred for vestibular physical therapy. Higher visual and verbal memory scores were related to better performance on the Five Times Sit to Stand.
Publication
Alsalaheen BA, Whitney SL, Marchetti GF, Furman GM, Kontos AP, Collins MW, Sparto PJ:  Relationship between cognitive assessment and balance measures in adolescents treated with vestibular physical therapy after concussion. Clin J Sport Med. 2016. 26(1):46-52. PMCID:  PMC4856020
http://journals.lww.com/cjsportsmed/Citation/2016/01000/Relationship_Between_Cognitive_Assessment_and.7.aspx

Bara Alsalaheen, PT, PhD and Patrick Sparto, PT, PhD
Assistant Professor of Physical Therapy University of Michigan-Flint, Associate Professor of Physical Therapy University of Pittsburgh
Bara Alsalaheen, PT, PhD is an Assistant Professor of Physical Therapy at University of Michigan-Flint, Michigan, USA. His research focuses on understanding factors associated with variations in concussion risks, recovery times and rehabilitation outcomes. This research was completed when Dr. Alsalaheen was a doctoral student at Dr. Sparto's laboratory at University of Pittsburgh.
Patrick Sparto, PT, PhD is an Associate Professor of Physical Therapy at the University of Pittsburgh. His research interests include the neuroimaging of postural control, the biomechanics of step initiation, and balance impairments after concussion.
Copyright
© 2018 by the author. Except as otherwise noted, the ISPGR blog, including its text and figures, is licensed under a Creative Commons Attribution-ShareAlike 4.0 International License. To view a copy of this license, visit https://creativecommons.org/licenses/by-sa/4.0/legalcode.
ISPGR blog (ISSN 2561-4703)

Are you interested in writing a blog post for the ISPGR website?  If so, please email the ISGPR Secretariat with the following information:
First and Last Name
Institution/Affiliation
Paper you will be referencing